PLE COUPLER FOR LX4000 SYSTEMS
Model 76604US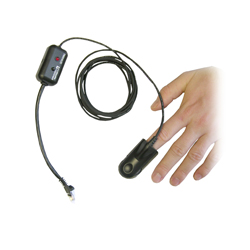 DESCRIPTION
** For LX4000 Systems Only
Our new Photoelectric Plethysmograph, developed in part with the help of Mark Handler and Donald Kraphol, is used to measure the rapidly occurring relative changes in pulse blood volume. The photoelectric plethysmograph utilizes a photosensitive cell to measure light reflected or passed through the tissue segment where the monitor is placed. The light source used produces a light in the infrared range (7000 to 9000 Angstroms). The light in this frequency is scattered by red blood cells so the amount of light reaching the photo sensor is related to the amount of blood through which it passed before reaching the sensor. The sensor can be placed on the same side of the monitoring site as the light, in which case the amount of light reflected back is measured. A clamp-like device houses both the light source and the sensor, and the assembly is placed on the finger or the thumb. This Plethysmograph has one primary connector that plugs into any of the auxiliary inputs on the LX4000 Computerized Polygraph (Handler, Mark & Kraphol, Donald, 2007).
Reference:
Handler, Mark and Kraphol, Donald., The Use and Benefits of the Photoelectric Plethysmograph in Polygraph Testing (2007, APA Journal) - ABSTRACT
FEATURES
Rubber padding cushioned for added examinee's comfort
Smaller diameter
More flexible cable
Copyright © 2009 - 2014 Lafayette Instrument Company. All Rights Reserved.