COMPUTER POLYGRAPH CALIBRATOR
Model 76740LX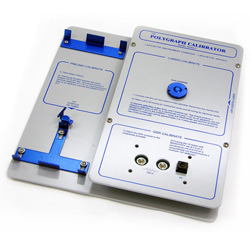 DESCRIPTION
The functionality check procedures for the LX4000/LX5000 Computerized Polygraph System are performed much like the procedures followed for calibrating the Lafayette Conventional Analog Polygraph Systems.
Lafayette Instrument Company recommends performing Functionality Checks when the examiner suspects a functionality problem, when using a different LX4000/LX5000, or when the date of the last functionality test is not known.
OPTIONAL ACCESSORIES
ELECTRODE ADAPTOR FOR 76740 CALIBRATOR

Model 76740P
The calibrator electrode adaptor is to be used with the old style Calibrator Model 76740 to allow calibration of snap style EDA assemblies.
Copyright © 2009 - 2016 Lafayette Instrument Company. All Rights Reserved.