2 MULTI-FUNCTION COURIER II SYSTEM
Model 763-92GA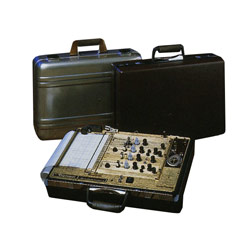 DESCRIPTION
Our newest conventional case style offers a gold anodized look and compact size. The case was designed with the traveling examiner in mind. The lid is designed with plenty of storage space and includes an in-case calibrator. The case is made of exceptionally strong, deep-drawn aluminum that resists dents and is also dust and weather resistant. Each instrument comes with a one year warranty on all parts and labor.
INCLUDED ACCESSORIES
Two (2) Pneumo Chest Assemblies
GSR Electrode Set
Standard Kovacic Arm Cuff
Pump Bulb Assembly
Pens and Bottles for each Recording Module
One (1) Extra Ink Bottle
Pen Pad
Ink Filler
Tool Kit
Two (2) Rolls of Chart Paper
Instruction Manual
OTHER OPTIONAL ACCESSORIES
Auto Power Conversion
In-case Calibrator
Various Styles of Event Markers and Thermal Writing Capabilities
SPECIFICATIONS
Dimensions: 13"W x 18"L x 6.5"D
Total weight: 21.5lbs.
Copyright © 2009 - 2013 Lafayette Instrument Company. All Rights Reserved.