COMPUTER POLYGRAPH CALIBRATOR
Model 76740LX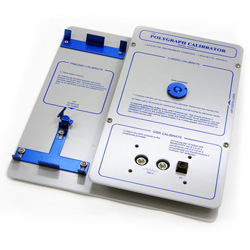 DESCRIPTION
The functionality check procedures for the LX4000/LX5000 Computerized Polygraph System are performed much like the procedures followed for calibrating the Lafayette Conventional Analog Polygraph Systems.
Lafayette Instrument Company recommends performing Functionality Checks when the examiner suspects a functionality problem, when using a different LX4000/LX5000, or when the date of the last functionality test is not known.
OPTIONAL ACCESSORIES
CALIBRATOR ELECTRODE ADAPTOR

Model 76740P
Used in conjunction with the 76740LX Calibrator to allow calibration of non-snap style EDA assemblies.
Copyright © 2009 - 2015 Lafayette Instrument Company. All Rights Reserved.