RAKES DELUXE FOREARM CUFF
Model 76531BR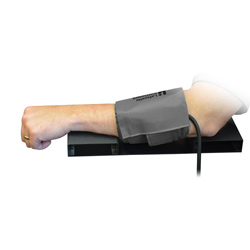 DESCRIPTION
Rakes Deluxe Forearm Cuff consists of two components: a forearm cuff and a metal stand. During a polygraph examination the metal stand is placed upon the arm of the polygraph chair and the subject's forearm (with the cuff on) rests upon it. The design allows for the elimination or reduction of pressure naturally applied on the cuff by the arm's weight, and prevents the restriction of blood flow. The Rakes Cuff ensures the utmost accuracy of the polygraph examination. It is more comfortable and stable than the Kovacic Arm Cuff. Designed for use with the LX4000 computerized polygraph and our conventional polygraph.
SPECIFICATIONS
Color: Medium blue (cuff), black (stand)
Two components: forearm cuff and metal stand
Stand design prevents the restriction of blood flow
Material: Dacron polyester fabric (cuff), stand (aluminum)
Copyright © 2009 - 2015 Lafayette Instrument Company. All Rights Reserved.