REPLACEMENT TOOL KIT
Model 76748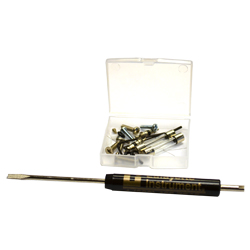 DESCRIPTION
Replacement Tool Kit for all Gold Series Polygraph Systems.
Two (2) Valve Cores
Valve Core Tool
Two (2) Spare Fuses
Two (2) O-Rings for quick disconnect
Three (3) Pen Caps
Three (3) Pieces of Pen Cleaning Wire
Three (3) Allen Wrenches
Assortment of Screws
Copyright © 2009 - 2016 Lafayette Instrument Company. All Rights Reserved.